Get the Money You Need Before Your Next Paycheck Quickly and Easily
In the simplest terms, a quick cash loan is a somewhat small, short-term financial solution that carries a term of about two weeks--the same amount of time that passes between most companies' paydays. By making the life of each loan we grant so brief, we've been able to trim away most of the steps that bog down the approval processes for conventional borrowing services. We don't check references; we don't get verification from your employer; we don't call personal or professional references; we don't request collateral; and we don't check your credit history. By forgoing those age-old time-consuming tasks, we're able to speed the process up so your funds will be in your hands within 24 hours--which is less time than it usually takes a conventional loan processor to even open your application file.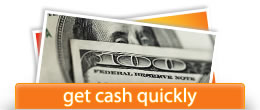 The Method Behind the Madness
Sure, it might seem like a tremendous risk on our part to grant advances to people without first going through the aforementioned checklist so closely followed by conventional lenders. While there is some risk involved, we feel it's more important to fill a need that isn't being satisfied by any other type of financial institution--as well as serve people who otherwise can't get assistance anywhere else. All that we require from each borrower is that he or she has a bank account with direct deposit. That's all the information we need to get you the money you need so quickly. Once your application is received, we contact your bank and confirm that a paycheck is indeed deposited every two weeks. That's why we don't need to see your paystubs or call your human resources department to verify your employment. Then we make arrangements to wire your quick cash loan directly into your account, where it's immediately available as cash.
When it's time for you to repay your quick cash loan, we simply withdraw the money you owe us on your next payday. With one quick phone call, we're able to confirm your employment, get you the money you asked for and receive a fairly reliable guarantee that we'll get the money back. So, what at first might come across as a foolish business practice is actually a customer-oriented method with a focus on providing a fast, easy service to people who are often in dire need of financial assistance. The process is so quick and simple, it's a wonder conventional lenders haven't updated their antiquated approval process to better serve their customers.
Why Bad Credit Isn't a Bad Thing
When you borrow money through a conventional loan, you enter a long-term agreement with the lender that sets up a monthly payment structure over the proceeding several years. And people rarely default on a loan right out of the gate; it usually occurs well into the relationship. So even if you've got a great job that pays big bucks when you apply for the loan, the lender has no way of knowing if you'll be in the same financial situation, or how you'll behave, down the road. Not being able to see into the future, its only option is to look into your past. By doing so, a conventional lender hopes to get a handle on your reliability in paying back loans over periods of time. That's why having no credit is just as damaging as having bad credit. Quick Cash Loan Today, however, is considered a short-term lender. We deal in smaller loan amounts that are repaid on each borrower's next payday. Since we know you'll be repaying us in two weeks and we know where to get the money, we don't feel your past has any bearing on the present.