The Truths and Myths About Borrowing
The payday advance industry was born in the early 1990s after conventional lenders, who decided they weren't making enough money by issuing smaller amounts of money, bowed out of the short-term loan business. Over the years, big banks and lenders have seen some of their business fall to the wayside as potential customers opted to help themselves out of financially problematic situations with the help of payday lenders, rather than commit to paying years of interest on conventional loans. This fact has caused major lenders to develop some animosity toward companies like ours, which has resulted in a number of myths being spread and state lawmakers being pressured into creating restrictions on the industry.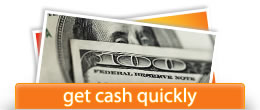 A Simple Mission
While a number of detractors would like the general public to think the industry is a large conspiracy bent on bilking the few remaining dollars from the country's desperate and poor, the real story is far less dramatic ... or interesting. We, like many other companies in the industry, was formed to fill an obvious need of people who need small amounts of cash and don't have the time, required credit score or interest to go through a conventional lender.
The Expense of Expediency
One of the biggest fallacies about cash advances is their cost. Detractors often cite outrageous interest fees as high as 400 percent, which indeed would be exorbitant--if it was true. However, they arrive at such overblown figures based on an annual percentage rate, which is how charges are calculated for conventional loans. In other words, they take the one-time charge for a quick cash advance and multiply it by a year's worth of payments. Then they take the dollar amount they come up with and calculate its percentage based on the original balance. If one were to do the same with credit card late fees or utility reconnect charges, the percentage would be in thousands.
The reality is a short-term lending service carries a competitive one-time fee, which is paid along with the balance on the borrower's next payday. There are no hidden charges and no additional fees beyond the price you agree to when borrowing the money. Depending on the state you live in, you may be allowed to "roll over" the loan by paying just the fee but holding off on repaying the amount owed for another two weeks. But even in the most extreme case, the maximum amount of rollovers allowed by any state is three. And that's not something we expect or encourage. We're in the short-term lending business and would like to keep it that way.
A Short Relationship
Another oft-cited misconception is a cash advance "traps" borrowers in an endless cycle of debt from which they have no hope of escaping. For this one, rivals of the industry didn't even bother coming up with fancy calculations to support their ill-conceived fabrication. The truth of the matter is we couldn't trap a borrower even if we wanted to; as is the nature of a short-term loan, there's simply no cycle in which we could do it. Once you pay back the money you owe on your next payday, you're paid in full, your account is closed and we're out of your life ... unless, of course, you request another advance in the future.